---
(Jean Joseph Pierre PENIN de La RAUDIÈRE)
Born 28 January 1888 - Tours (37)
Deceased in 1974 , age at death: 86 years old
Inspecteur des finances
Parents
Spouses, children

, grandchildren

and great-grandchildren
Married 25 April 1919 to Elizabeth de PONTOI-CAMUS de PONTCARRÉ

, born 20 November 1893 - Château-de-Villebon, Villebon (28), Deceased 19 March 1922 - Paris (75) age at death: 28 years old

(Parents : Etienne Frédéric de PONTOI-CAMUS de PONTCARRÉ 1856-1897 & Marie-Thérèse DAMIENS de RANCHICOURT 1867-1921) (see note)
Married 1 May 1925 to Gabrielle TUFFIER

, born in 1894, Deceased in 1950 age at death: 56 years old

(Parents : Théodore TUFFIER, voir Illustres Normands 1857-1929 & Madeleine HERBAULT 1867-1940) (see note) with
Married in 1951 to Marguerite de ROHAN-CHABOT

, born 6 November 1908 - Paris VIII° (75), Deceased 14 February 1987 - Le Coudray (28) age at death: 78 years old

(Parents : Jehan de ROHAN-CHABOT 1884-1968 & Anne de TALHOUËT 1893-1964) (see note) with
Siblings
Family Note
Marriage with Elizabeth de PONTOI-CAMUS de PONTCARRÉ
:
Notes de Déméter :
http://www.vasouy.com/historique_chap2.asp#09

Marriage with Gabrielle TUFFIER
: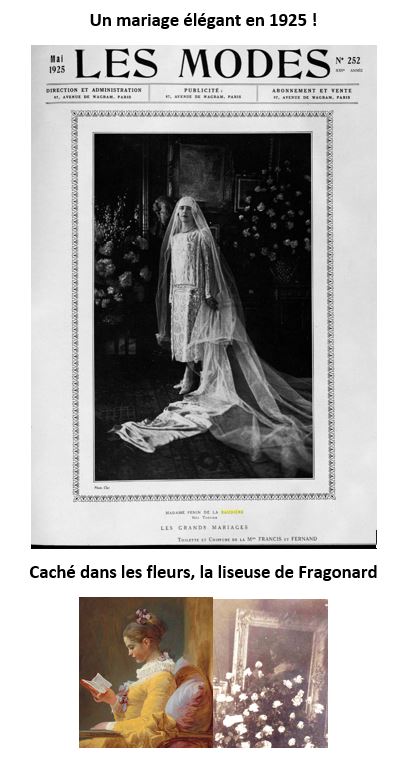 Le tableau est conservé à la National Gallery of Art, à Washington. Il a été donné au musée en 1961 par Mme Mellon Bruce, en mémoire de son père, Andrew W. Mellon. Auparavant ce tableau avait appartenu au Docteur Tuffier.
Marriage with Marguerite de ROHAN-CHABOT
:
Notes de Déméter :
http://www.vasouy.com/historique_chap2.asp#09

Sources
Individual: gregoire@tournemire.net - 19/10/2001, Jadellac
Birth, death: Jadellac
Family 1: H&G 2000 pp 168-169, hdemython
Family 2: gdt avec Hubert
Family 3: Déméter